At St Peter's Catholic Primary School we believe in supporting parents through nurturing each child's faith journey which bears witness to Gospel values and celebrates our Faith traditions whilst recognising and respecting our multi-faith community.
Our Catholic identity is strengthened by the devoutness and life of St. Peter. His example of living God's word through action and his commitment to faith, are attributes we value and strive to emulate.
"And now I tell you, you are Peter and on this rock I will build my Church; and never will the powers of death overcome it. I will give you the keys to the kingdom of heaven, and what you unbind on earth shall be unbound in heaven."
Matthew 16:18-19
We offer a range of opportunities for students to participate in the life of the Church. It is present throughout the school in the relationships, symbols, pastoral care, daily rituals and routines, celebrations and policy making. We celebrate our faith together through prayer, liturgy and the sacraments.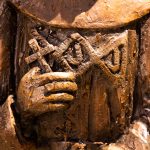 Religious Education underpins all the arrangements we make for children's learning and so is an integral inclusion in our total curriculum. The Religious Education curriculum has been designed by the Archdiocese of Melbourne for use in all Catholic schools in Melbourne. The program has an accompanying text 'To Know, Worship and Love' suitable for the developmental level of the students in each class. The program is taught in partnership with parish and families by highly qualified teachers committed to the ethos of Catholic education.
The school supports students and their families in preparing for the Sacraments of Reconciliation, Eucharist and Confirmation through an ongoing program commencing in Prep. Students at St. Peter's School receive the Sacraments at the following years:
Year 3/4
Reconciliation and Eucharist (Every 2nd Year)
Year 5 / 6
Confirmation (Every 2nd Year)